In this part of the video series you'll learn the following:
Writing VBA Procedures
Overview Of VBA Modules And Procedures
Working With VBA Modules
The VBA Code Window
Creating A VBA Sub Procedure
Working With VBA Variables
Declaring Variables In VBA
Overview of Modules and Procedures:
Statements ->
Single lines of programming code that performs a single task.
Keywords ->
Words within statements which are part of VBA.
Procedures ->
Sets of statements designed to be run together. Procedures exist in modules.
Module ->
They hold 1 or more procedures. Stand alone modules are called standard modules.
Statements, declarations which can affect all the procedures in a module are called "General Declarations"
Here is a diagram of the previous explanation:
MODULE
GENERAL DECLARATIONS
PROCEDURE
STATEMENT
STATEMENT
STATEMENT
PROCEDURE
STATEMENT
STATEMENT
STATEMENT
The VBA Code Window: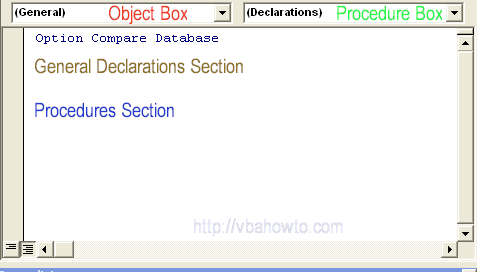 The Option Compare Database is there to help with string comparisons.
Here is an Option Compare Database example:
1
You don't have to have the Option Explicit statement, but it helps prevent variable misspellings
Click here for the database used in most of the modules:
Nwind_2k_modified.mdb
Free Access programming tutorial Video 2
Sign up for 10 FREE VBA videos that will help you do your job better at:
http://vbahowto.com/ms-access-tutorial
| | |
| --- | --- |
| | <<--HATE THE ADS? CLICK IMAGE TO GET THE "AD FREE" MODULE 1 VIDEOS! |
by