I am in the process of converting an Excel spreadsheet into an MS Access database.
One of the first questions I asked was, "Are you doing this manually" and "How".
The reason is simple, I don't want to try and figure out a new way of processing for them. If they are already used to a certain way of doing things, then why do I want to confuse them by introducing to them a "new" way of doing something that they are already doing in a certain way.
Confused?
You will confuse them, and pile more work upon yourself that they probably won't like anyway (so you honestly can't bill them for that time you spent coming up with your new idea, which is probably only cool to you 🙂 ).
I really would like to see the forms they are using to do this manually, or the spreadsheet they are using to keep track of things.
Here's a sample of the Excel spreadsheet currently in use:


This database needs to track:
Materials
Projects
Project Sites
Warehouse Inventory
So here is my basic table setup: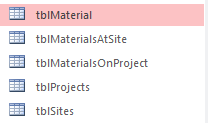 I will continue this later, let me know if you have any questions now.
If you've been helped, consider giving us a tip. Thanks!

($5 suggested amount)

(…10% of your gift amount will go to charity)
Offsite Related Information:
by