In this video I demonstrate the Procedural/Application programming difference.
We'll cover Access form events:
Creating An Event Procedure
Reacting To User Actions Programatically
Using the DoCmd Object
Program Flow
Frame and Option Button Events
Command Button Events
Drop Down Box Events
(Click here for the Navigating Records part.)

<< Free Access programming tutorial Video 10
VBA Form Object Event Procedures>>
Using our form from the last video, add and "image" control to the top called "imglogo":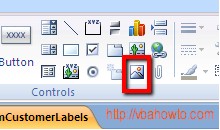 Click it, then draw the image on the top of your form. The click "Cancel" when the "Insert Picture" dialog appears. You can either select the image from a specific folder, or code it to appear on the load event. We are doing the latter.
Right click the image and make the Properties dialog box appear. From the "Property Sheet", click "Other" then "Name", and call it, "imgLogo".
We code it for the image to appear when the form loads.




1
2
3
4
5
6
7
8
9
10
11


Private

 

Sub

 Form_Load()


    Me.imgLogo.Picture = "C:\WINDOWS\ServicePackFiles\i386\mslogo.jpg"


End

 

Sub





Private

 

Sub

 fraCustomerLabels_Click()
    

If

 Me.fraCustomerLabels.Value = 2 

Then


        Me.cboCountry.Requery


        Me.cboCountry.SetFocus
    

End

 

If


    


End

 

Sub






Offsite Related Information:
by