I wanted to find out where I ranked on the Google search engine for a certain keyword.
I couldn't find anything that did the job, so I designed one myself.
This tool is off the VBA track because it uses PHP. It's under development, and I'll probably finish it
off but it does for me what I need it to do.
Basically you enter your keyword in the input box and then click "Update" (the submit button).
Your results will show up below.
You can use the browser search functionality to search for your blog title in the results. You will then see what
search page you appear on, and your position on that page.
Try it out for yourself at:
http://loeblcomservices.com/website-rank-in-google-search/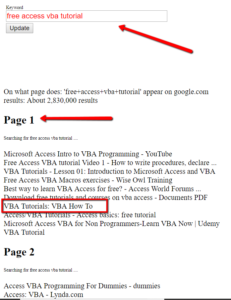 According to the results of my search entry into the google search box "free access vba tutorial", I am
ranking on the first page.
Let me know if you have any questions. on my contact page.
Offsite Related Information: